Los Angeles Water Heater Repair & Services

Providing Water Heater Repair & Replacement In Los Angeles
Mr. Speedy Rooter has a long history of working with only the best in the industry. Our professional plumbers are specialized in water heater repairs and replacements, providing a premium quality plumbing service in the Los Angeles area, Santa Monica and Irvine.
From water heater replacement to new water heater installation, Tankless water heater or else and maintenance services, our technicians will deliver reliable and lasting results.
Most Common Water Heater Problems
In Los Angles

This plumbing situation is often a sign that your heating elements are not working properly. No matter the type of water heater, if this happened to you, the heating components of your water heater may need to be repaired or replaced. Another common cause can be a high water pressure in your house, making the water flowing through your heater way too fast for it to warm it up.
If this happens to you, check your thermostat settings and adjust it until you get the desired water temperature. You should also check if your thermostat is faulty and you need to replace it. Also, make sure you use the water heater that is not too small and install the one that will give you as much hot water as your household requires.
In most cases the main cause of low hot water pressure is the type of pipes going into and from your water heater. As older homes have ½ inch diameter galvanized pipes, replacing them with ¾ inch piping should raise the water flow. In other cases, low hot water pressure can be caused by rust and calcium-deposits inside your plumbing, a problem that a trusted plumber in your area can fix in no time.
Dirty or Rusty Colored
Water
If your water is rusty and dirty, this may be caused by the corrosion of the anode rod. The replacement of an anode rod is easy for a skilled plumber and can prolong the lifetime of your water heater by years. But if left untreated, the corrosion may develop a leak, making a replacement of the water heater your only solution. However, if your water is not rusted, only slightly colored, the most probable cause is sediment build up on the heating elements.
Water Leaking From the
Top / Bottom
There are a number of reasons why your water heater may be leaking, both from top and from the bottom. From condensation to the T&P valve letting go of excess pressure, a great number of water heater components may cause this problem. In some cases, the only way to fix this plumbing situation is by replacing your water heater completely.
LOs Angeles Water Heater Installation

When you are faced with high energy bills and not enough hot water, then chances are you are ready for a new water heater. The most important thing, though, is that your water heater is properly installed. A water heater that is not installed properly can cause extensive water damage to your home and even a fire.

Mr. Speedy Rooter's team specializes in safe water heater installation, giving you reliable plumbing service with lasting results. Our plumbing team installs water heaters of all sizes and models, adhering to building codes and local plumbing regulations. We ensure your water heater has proper venting, thus preventing fire hazards. With outstanding workmanship, we ensure all elements and piping from and to the water heater system are installed properly, creating a system working in perfect synchronization.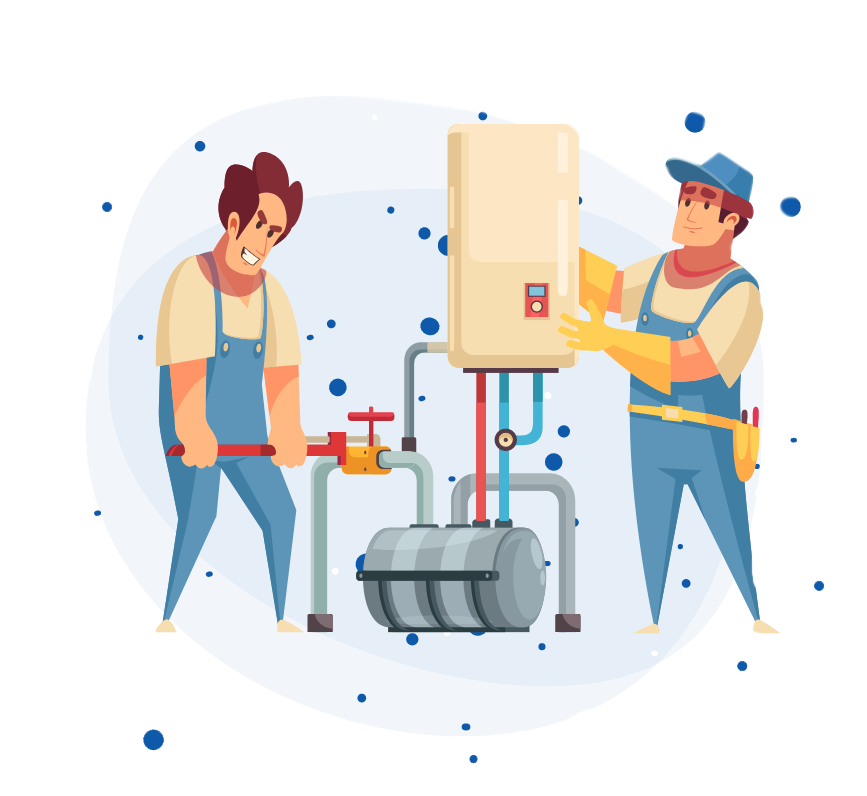 Get a Brand New Tankless Water Heater Today!
Environmentally-friendly and cost-efficient, tankless water heaters are slowly taking over households all across the United States. Now, you no longer have any need for the bulky water heater that runs out of hot water suddenly and takes a long time to refill and reheat. With a tankless water heater, the water is heated as it passes through, giving you hot water on-demand.

Mr. Speedy Rooter's licensed plumbing technicians can help you decide if a tankless water heater is just what your home needs. We provide a guaranteed and safe tankless water heater installation and help you decide which type of tankless water heater suits your and your property's needs.
Same-Day Local Water
Heater Services
If there is one thing Mr. Speedy Rooter does the best, it is combining high-quality service with speed. 
Our same-day local water heater services allow homeowners in Los Angeles, Santa Monica, and Irvine to have their water heaters delivered and installed the same day. We can deliver and install your water heater today, fill and test the water heater, but also remove the old unit once we are done.
All Mr. Speedy Rooter plumbers are licensed and insured and have completed a rigorous training program for water heater repairs and installation, ensuring that when you call us, you'll get the best professional plumber installing your water heater.
It is a long established fact that a reader will be distracted by the readable content of a page when looking at its layout. The point of using Martin Luther Lorem Ipsum is that
It is a long established fact that a reader will be distracted by the readable content of a page when looking at its layout. The point of using Martin Luther Lorem Ipsum is that
It is a long established fact that a reader will be distracted by the readable content of a page when looking at its layout. The point of using Martin Luther Lorem Ipsum is that
It is a long established fact that a reader will be distracted by the readable content of a page when looking at its layout. The point of using Lorem Ipsum is that

It is a long established fact that a reader will be distracted by the readable content of a page when looking at its layout. The point of using Martin Luther Lorem Ipsum is that

It is a long established fact that a reader will be distracted by the readable content of a page when looking at its layout. The point of using Martin Luther Lorem Ipsum is that